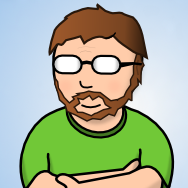 Michael Hansen
miha...@indiana.edu
Computer Scientist for Air Force Research Lab
Ph.D. from Indiana University
in Computer Science and Cognitive Science
M.S. Computer Science, Indiana University (2012)
B.S. Computer Science, University of Wyoming (2006)
Howdy. I'm a Computer Scientist for the Air Force Research Lab. I received my Ph.D. Indiana University in 2015, majoring in Computer Science and Cognitive Science. I'm interested in artificial intelligence, knowleged-based systems, and how programmers read and understand code.
I received my B.S. in Computer Science from the University of Wyoming in 2006. From 2003-2007, I did contract programming for businesses and government offices in the Wyoming and Colorado area. Before going to IU in 2008, I worked as a consultant for Logical Information Machines. In 2012, I received my M.S. in Computer Science from Indiana University.
In my free time, I like to volunteer for Software Carpentry and draw silly things.